Golden Beetroot, Leek, Fennel & Quail Egg Autumn Salad
A delicious salad created with the freshest seasonal organic produce from Abundant Backyard
Servings:
2 as a main
4 as a side salad
Suitable for:
Gluten-free, Dairy-free. Vegetarian
Good For:
Lunch or Dinner
Inroduction
About this Recipe
This delicious autumn recipe was created especially for Abundant Backyard by Lavish Foods, to take advantage of the seasonal freshness of the range of organic vegetables we are currently harvesting. Experience the taste and health benefits of eating locally produced, organic, in-season foods.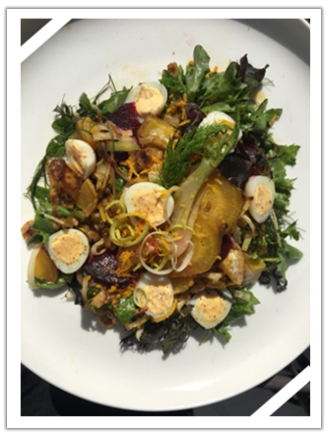 1 fennel bulb, finely sliced
1 leek, finely sliced
4 medium yellow (or red) beetroot peel & dice
1-2 cloves minced garlic
2 tablespoons of olive oil
1 tablespoon of Tamari sauce
6 hard boiled quail eggs
2-3 sprigs fennel fronds
2 tablespoon coarsely crushed toasted walnuts
½ fresh peeled orange sliced for garnish
Pink salt & Black pepper freshly ground
Dressing:
¼ teaspoon orange zest & ¼ cup juice
⅛ teaspoon toasted sesame oil
½ tablespoon olive oil
1 teaspoon Dijon mustard
½ teaspoon Tamari sauce
Place all ingredients in a bowl, whisk to emulsify to creamy texture.
Note: This versatile dressing can be made in larger volume, kept refrigerated in a glass jar, shake well before using. Makes a great marinade for chicken, pork and beef.
Step by Step Instructions
Step 1
Preheat your oven to 180 degrees Celsius. – Line a baking sheet with baking paper.
Toss diced beetroot in 1 tablespoon olive oil and ½ tablespoon of Tamari sauce, season with a little
salt & pepper, place on the baking sheet, roast for 40-60 minutes until the beets are fork tender. Remove from the oven.
Step 2
Place quail eggs in boiling water, cook for three minutes, transfer eggs to a bowl of ice water to cool before gently peeling and slicing in halves.
Step 3
While beets are roasting, in a pan over medium heat use remaining olive oil to sauté sliced leek,
fennel and garlic until tender, season with a little salt towards the end.
Step 4
Prepare Abundant Backyard salad greens on salad platter or individual plates.
Dress salad greens with veggie mix, garnish with quail eggs, walnuts and fresh fennel sprigs to finish.